Selsdon Wood Local Nature Reserve
The Ancient Semi-Natural Woodland (ASNW) is dominated by oak, beech, sweet chestnut and ash with scattered holly, field maple, wild & bird cherry, goat willow and yew etc. The coppiced woodland is mainly hazel. Both are rich in wildlife - home to badgers, bats, butterflies and birds. The five flower-rich meadows host butterflies and insects and provide grass for deer, worms for badgers and hay for cattle. Blackthorn & hawthorn hedges provide nectar for insects, food and cover for birds.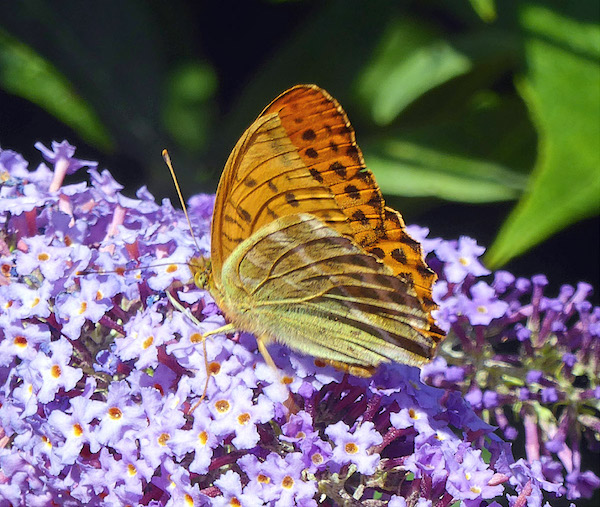 Silver Washed Fritillary on Buddleia
Old Farleigh Road, S. Croydon is Croydon's 81 hectare (200 acre) link to the Surrey countryside. The London Loop Outer Orbital path passes through. A network of paths invites you to explore the woods and meadows. They are very muddy when wet.
Here are a few of the things to interest people of all ages in the wood. Use books from home or the Library, your mobile apps or the FSW website to help with identification.

In Spring see the masses of wood anemones followed by bluebells. Try to find the early purple orchids and where does 'Goldilocks' live?* Listen for migrant chiffchaff and blackcap song.

In Summer the meadows contain many wildflowers - look for pyramidal orchids & white helleborines.

In Autumn watch the leaves turn through their many varied hues and see how many fungi you can spot. Look and listen for Winter birds - fieldfare, redwing and siskin. With snow or hoar frost, enter fairyland.
* Goldilocks is the UK's only woodland buttercup - it has straggly growth, small flowers and grows two different shapes of leaf.