Selsdon Wood Local Nature Reserve
Malcolm Sharpe was Chairman of the Committee, which raised over £11,000 from public subscription in the 1920s, to purchase Selsdon Wood as a Nature Reserve. In 1936 it was handed to the National Trust who lease it to Croydon Council to manage. Many people know it as the 'Bird Sanctuary'.
In 1977 the Croydon Girl Guide Association paid for the planting of the Jubilee Plantation with beeches and oaks to celebrate our Queen's Silver Jubilee. Over the years the original planting was overwhelmed by large trees, which have now been removed. The Friends, with Council support, planted hedgerow plants and trees. In 2012 Selsdon Girl Guides, Brownies and Rainbows planted 60 native trees and shrubs to mark our Queen's Diamond Jubilee.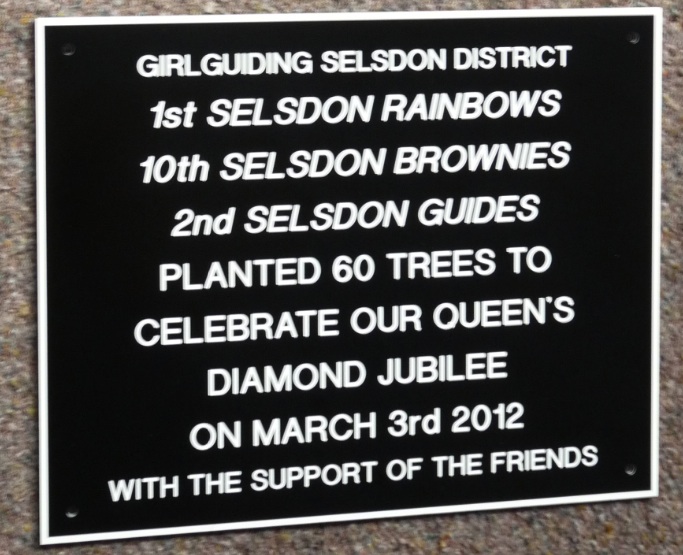 The Centenary Plantation was created in 1983. Funds were raised to plant 100 oaks to commemorate the Centenary of Croydon Council. In 2009 the Friends embarked on a clearance of the seedlings, saplings and plant growth that were stifling the original oaks. They also removed dead and distorted growth from them. A surprise bonus was the emergence of a large number of white helleborines and a small clump of broad-leaved helleborines – relatives of the orchid family.
In the 1970s larch was planted in part of an area known as The Gorses. After these were felled in 2009 dormant gorse seeds sprung up. The original gorse was probably grown as fuel for nearby lime kilns, and as cattle feed.
Linden Glade. Small-leaved limes, that give the glade its name, overlook the bird bath and pool. These are being redesigned. The historic memorial stone is interesting. Small-leaved limes were used for rope making before hemp was discovered.
Until the 1800s, the fields we now call 1 Green Hill,
2 Vale Meadow, 3 Great Hill and 4 Great Field, including their adjacent hedges & Steven's Larch once formed one large field - Great Field Hill.