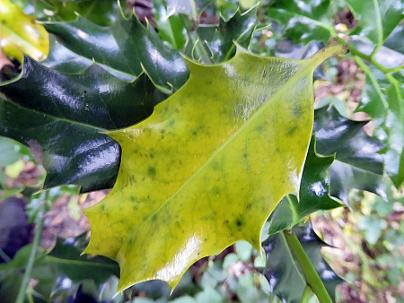 Holly Leaf yellowing - by Tony Flecchia - 16/6/21 -
This condition is Iron Chlorosis and is on a number of leaves on any affected holly tree, like this sample leaf from one in The Wend. There are three possible causes but the cause in this case in our reserve is an area of soil with too high a ph value, too alkaline. This prevents the holly processing the iron in the soil, resulting in yellow leaves.
Other causes are too much watering, certainly not the case at present, or a severe lack of iron in the soil which is extremely rare and can be discounted here.