Notices


Our next walk is 'Bluebells and Spring Flowers' with the Friends on Saturday 3rd May 2014 at 2pm - see the Walks page for details.

Our next Meeting is on Monday 28th April 2014 at 8pm at the Forestdale Forum. All members welcome.

Our next Workday is on Sunday 4th May 2014 - see the Workdays page for details.

Who we are


The Friends of Selsdon Wood are volunteers working with Croydon Council to ensure that Selsdon Wood is maintained for the benefit of the flora and fauna, as well as for the enjoyment of the public. We are the Council's eyes and ears - reporting problems that occur. We are grateful to the many dog walkers and others who also 'keep an eye out' whilst enjoying the fields and woods and advise of problems too.


Download a printable leaflet (with map) from here.


What we do


The Friends regularly hold informative walks, carry out sustainable conservation and restorative work and monitor wildlife in Selsdon Wood. On our work days (see the Workdays page for details) we coppice woodland and carry out other maintenance work. Our monthly Committee meetings are open to all, usually on the last Monday of each month. We hold our AGM in early January. Meetings start at 8pm at the Forestdale Forum.

Our display boards at the entrances carry posters advertising forthcoming walks and providing other information for users of the woods.

Join Us

The Friends are pleased to welcome new members. Your £5 family subscription will help to pay for more bird boxes, native trees & plants, tools, leaflets, name boards etc. Membership of the Friends expresses your belief in, and support for, the work we do. The Friends understand that not everyone can take part in maintenance work or attend meetings but your membership encourages those who do.

A membership form to print and return by post can be downloaded from here.

A form to complete and return electronically can be downloaded from here.

FSW Logs

The FSW have some logs from our coppicing activities and maintenance work, available for a donation of £4. If you would like some please contact Neale Fox on logs.selsdonwood@btinternet.com or the FSW on 0208-657-0423, by email to selsdonwood@gmail.com or by using the form on the Contact Us page of this website.

Lost Property



This tribute to Samson has found its way into the Lost Property Box behind the notice board in the Selsdon Wood car park.

If it is yours please reclaim it.




FSW 2014 Bluebell Watch

18/4/14 - Bluebells looking superb for the Easter weekend.


Also see below for Springwatch Gallery and First Sightings.

SELSDON WOODS by Roy Topp

Where the silver birches rise,
Timbered arches touch the skies,
Through the verdant, rustling tiles,
Sunlight filters to the aisles,
Down along the mossy way,
Touching every primrose spray.

Behold the carpet, Cobalt blue,
Shimmering in the morning dew,
Rippling in the eastern breeze,
Bluebells thick between the trees.
No architect, however fine,
Could build cathedrals on this line.

Listen, hear the choir sing,
The skylark's solo on the wing,
The psalm of blackbird, wren and jay,
The rook to sing 'Amen' and pray.
His brother crow will soon protest,
When preaching from his lofty nest.

Up here in sheltering elm and oak,
Surrounded by an emerald cloak,
High above the bustling town,
Away from anguish, glare and frown,
In sanctuary of the wild,
God and man are reconciled.

Many thanks to Roy Topp for permission to publish his poem here.

Latest sightings
April 18th 2014 - At 6.15pm the White Squirrel was seen sitting on a branch before scuttling up the trunk - report from Ted Forsyth

April 17th 2014 - 2.00pm - I've just returned from the wood and saw a Holly Blue butterfly just at the bottom of Langford's Way. Also heard Treecreeper again. - report from Ted Forsyth

April 9th 2014 - I heard a Treecreeper several times on Langford's Way again, and the Tawny Owl called from Courtwood Grove just before 1.00pm. - report from Ted Forsyth

April 3rd 2014 - I saw the White Squirrel again, this time on the other side of the path. Standing at the top of Langford's Way I again heard a Treecreeper. This time we were able to see it creeping up a dead branch before flying to another tree. - report from Ted Forsyth


See the Fauna page for more about the White Squirrel and photos of the Tawny Owl and Hollly Blue.
*********
Springwatch Gallery - signs of Spring 2014 in Selsdon Wood
arranged in chronological order

Please send us your photos and we will be delighted to add them to our Springwatch Gallery.
The table below shows the first sightings of seasonal flowers, deciduous tree leaves, insects etc.
Do please let us know of any that you spot.
So far we have only the 2014 sightings but the table will be updated year on year to show variations in the arrival of spring.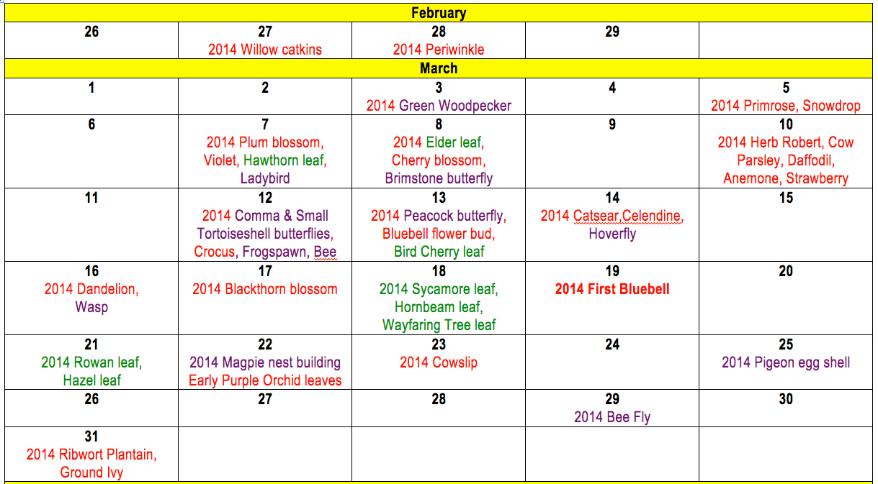 Selsdon Wood Closing Times

The following closing times apply to the Car Park & Kingfisher Gardens gates.

Jan - 4.30: Feb - 5.30: Mar - 6.30: Apr - 7.30: May - 9.00: June/July - 9.30: Aug - 8.30: Sept - 7.30: Oct - 6.30: Nov/Dec - 4.30.
Reporting Problems in Selsdon Wood
For fire, ambulance or illegal activities - call 999. Our name boards will help you give the location. Alternatively if you ring 112 from a mobile phone it will automatically give your GPS position to the emergency services. If it is not urgent please ring 101.

In the case of injured wildlife ring the RSPCA on 0300-1234-999.
Motor cycles and Quad bikes are not allowed in Selsdon Wood. If you hear or see them, or signs of people causing malicious damage, lighting fires or building camps please immediately phone Croydon Council on 020-8726-6000 and ask the switchboard for the Dog Unit. A team will come out to investigate as soon as one is available. If you are unable to contact them, or when the office is unmanned, please leave a message.
Graffiti should be reported to Graffiti@croydon.gov.uk

We would also be grateful if you would tell the FSW about it - e-mail: selsdonwood@gmail.com or use the Contact Us page on this website.
Ash dieback in UK woodland
You will have heard the news about Ash dieback in the UK. The Forestry Commission is currently carrying out surveys to establish its possible spread. To keep up to date and for further information about how to identify the disease please visit http://www.forestry.gov.uk/chalara. Now that the leaves have gone it will be difficult to identify affected trees, but once the trees are in leaf again next spring your support in keeping an eye on them will be extremely helpful.
If you find a suspect case, please report it to the following:
Fera - tel: 01904 465625 - email: planthealth.info@fera.gsi.gov.uk
Forestry Commission - tel: 0131 314 6414 - email: plant.health@forestry.gsi.gov.uk
and also to Richard Edwards at Croydon Council's Trees and Woodland Section - richard.edwards@croydon.co.uk
This disease has been reported in most of continental Europe, and has affected ash with varying degrees. In the UK it will be a case of seeing how things develop, what further research shows and following the advice give by the Forestry Commission. The Council's Tree and Woodland Section is working closely with the Forestry Commission and other practitioners across London to ensure we do what is possible and to keep you informed about developments.