Trees now in full leaf - see photo above
To contact the Friends
e-mail:
selsdonwood@gmail.com
or telephone the secretary on
020 8651 4010 mob:
07979 002547‬

Who we are

The Friends of Selsdon Wood are volunteers working with Croydon Council to ensure that Selsdon Wood is maintained for the benefit of the flora and fauna, as well as for the enjoyment of the public. We are the Council's eyes and ears - reporting problems that occur. We are grateful to the many dog walkers and others who also 'keep an eye out' whilst enjoying the fields and woods and advise of problems too.

Download a printable leaflet (with map) from the link below.

What we do

The Friends regularly hold informative walks, carry out sustainable conservation and restorative work and monitor wildlife in Selsdon Wood. On our work days (see the Workdays page for details) we coppice woodland and carry out other maintenance work. Our Committee meetings are open to all, usually on the last Monday of alternate months - see below for the next meeting. We hold our AGM in early March - see Events page for details. Meetings start at 8pm at the Forestdale Forum.
Our display boards at the entrances carry posters advertising forthcoming walks and providing other information for users of the woods.
Join Us
The Friends are pleased to welcome new members. Your £5 family subscription will help to pay for more bird boxes, native trees & plants, tools, leaflets, name boards etc. Membership of the Friends expresses your belief in, and support for, the work we do. The Friends understand that not everyone can take part in maintenance work or attend meetings but your membership encourages those who do.
To join go download and complete the form below, go to the Contact Us page on this website or email selsdonwood@gmail.com .
Notices
We now have a new treasurer:-) Many thanks to Karen Hall for volunteering to take on the role!!
On Sunday 22nd May the Scouts will be having an incident hike competition in our wood so don't be surprised to see them. This is nothing to do with FSW but has been approved by the Council.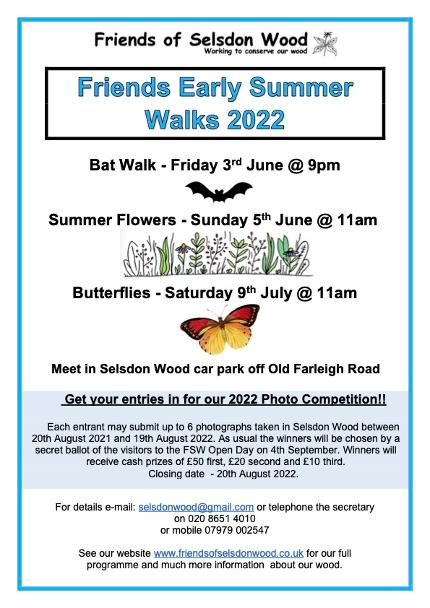 Ensuring that Selsdon Wood is maintained for the Benefit of Flora and Fauna
The above is one of the stated aims of FSW. It is a particularly apposite
aim at a time when Prince William is launching the Earthshot Campaign to bring nature back to its rightful place, when Climate Change is becoming an ever more apparent very real threat to the continuing existence of the biological world, and when the World's Climate Change Conference is being held in Great Britain.
We thus wish to share with you the document below which offers a critique of Croydon Council policies.
We welcome all feedback and comments.
Sponsorship
From time to time FSW seeks additional funding from organisations interested in supporting the various activities undertaken on behalf of the Friends.
We are grateful to Croydon Council, through their Nature Conservation Fund, for providing funding to cover Insurance costs and helping us to buy new tools for Workdays.
In 2014 the Friends undertook repair of the six noticeboards, with new art work describing the habitat and an updated map. Croydon Council, through the Small Grants Fund, provided funding towards this project, as did the Selsdon Residents Association. Without this significant contribution this project could not have been undertaken.
In 2016 we made major repairs to the muddy paths with the gravel and woodchip for this work funded partly through sponsorship. We are grateful to Councillor Sara Bashford for a contribution from her Community Budget and also to Woodside Timber and Spring Lane Builders Merchants for their donation and discounts. See the projects page for further details.
If you are interested in sponsoring the work of the Friends, please contact us using the details at the top of the page. We will be delighted to publicise sponsorship to all our 250 members through our newsletters and more widely through our contributions to local publications.
FSW is a Member of The Association of Croydon Conservation Societies (ACCS)
Selsdon Wood is owned by the National Trust and we have our own page on their website at
National Trust Bylaws which apply to our wood can be found at
Selsdon Wood Closing Times

Gates are not currently being locked so opening hours do not apply.
The following closing times apply to the Car Park & Kingfisher Gardens gates:

Jan-4.30: Feb-5.30: Mar-6.30: Apr-8.00: May-9.00: June/July-9.30: Aug-8.30: Sept-7.30: Oct-6.30: Nov/Dec-4.30.
If you find a gate locked when it should not be (or vice versa) please contact Jon Wren, Green Spaces Monitor, Development & Environment Department, L B Croydon tel: 0208 726 6200 ext 61064 or email Jon.Wren@croydon.gov.uk
Reporting Problems in Selsdon Wood
For fire, ambulance or illegal activities where immediate response is required - call 999. Our name boards will help you give the location. Alternatively if you ring 112 from a mobile phone it will automatically give your GPS position to the emergency services.

For non urgent matters, such as motorbikes or quads (which are prohibited and could be dangerous) or other antisocial behaviour such as dog attacks please ring Selsdon and Forestdale Police 020 8721 2464. They have an answering service as they are not there all the time but you can leave a message and they will get back to you. Alternatively, if you try to report an event as it's happening and the answerphone comes on then call 101 or contact the NSO's (Neighbourhood Safety Officers) NSO South West NSOsouthwest@croydon.gov.uk.
If there is a repeat problem, description of dogs/owners times etc they will be able to assist. If you are able to photograph the miscreants or note registration numbers that would be very helpful.
For Injured wildlife call RSPCA 0300 1234 999 (24/7) or Kent Wildlife Rescue Service 07824 893399. For problems requiring a mechanical solution - such as deer trapped in fences - phone the Fire Brigade on the 101 or 112 number.
To report injured, sick or trapped badgers or dogs trapped in badger setts contact East Surrey Badger Protection Society (ESBPS) 24/7 Rescue Service. We are here to help sick, injured, trapped or distressed badgers. Also tell us about dead badgers. Please help us by giving a contact number in case we need more details. Warwick Reynolds. 020-8688 9905. mobile: 07973 327017 or Ray Ings. 01883 380321. mobile 07736 520332 or David Gooden. mobile 07828 899273

There have been a number of incidents in the area of animals - cats and dogs as well as wild animals such as birds, rabbits and foxes - being deliberately killed and mutilated. This should be reported to the police and also to SNARL http://snarl.org.uk South Norwood Animal Rescue and Liberty tel: 07961 030064 or 07957 830490.
Overflowing bins or poo bins and fly tipping should be reported to parks@croydon.gov.uk

Graffiti should be reported to Graffiti@croydon.gov.uk
We would also be grateful if you would tell the FSW about any problems - e-mail: selsdonwood@gmail.com
Access to Selsdon Wood

The Selsdon Wood car park is off Old Farleigh Road, Croydon, CR2 8QF.
The map reference of the reserve entrance is 51° 20' 12.33" N , 0° 03' 11.95" W
The link below shows the Google Map of the reserve entrance with turquoise bus sign pointing to it;
https://www.google.co.uk/maps/@51.3370015,-0.053407,18.5z
The link below, also with the bus sign, shows the Google Earth photo of the entrance and car park area:
https://www.google.co.uk/maps/@51.3368204,-0.0532752,176m/data=!3m1!1e3
To reach Selsdon Wood by public transport - take the 433 from East Croydon Station, getting off at the stop just after the bus turns in to Sandpiper Road (Dove Close stop). Then walk back to Old Farleigh Road and turn left and you are just about 100 yards from the car park entrance to the wood. For a map and details see
https://tfl.gov.uk/bus/route/433/?direction=inbound
There is an additional hourly bus, 409, which runs along Old Farleigh Road with a stop named Selsdon Nature Reserve and It is also possible to access the wood from Courtwood Lane which is served by the 353.
Ash Dieback in Selsdon Wood
Chalara (Ash Dieback - a disease of Ash trees ) was found in 2016 in the Council coppice
blocks in Selsdon Wood. Unfortunately this was inevitable with the infection being
found at Warlingham two years previously. Whilst it is not ideal, 2016 thinking is
to carry on as normal as there is a good level of resistance being found in the
UK and fatality is not necessarily going to occur for infected trees.
However in 2021 a large number of the mature Ash trees seem to be looking very unhealthy.