Who we are

The Friends of Selsdon Wood are volunteers working with Croydon Council to ensure that Selsdon Wood is maintained for the benefit of the flora and fauna, as well as for the enjoyment of the public. We are the Council's eyes and ears - reporting problems that occur. We are grateful to the many dog walkers and others who also 'keep an eye out' whilst enjoying the fields and woods and advise of problems too.

Download a printable leaflet (with map) from here.

What we do

The Friends regularly hold informative walks, carry out sustainable conservation and restorative work and monitor wildlife in Selsdon Wood. On our work days (see the Workdays page for details) we coppice woodland and carry out other maintenance work. Our monthly Committee meetings are open to all, usually on the last Monday of each month. We hold our AGM in early January. Meetings start at 8pm at the Forestdale Forum.
Our display boards at the entrances carry posters advertising forthcoming walks and providing other information for users of the woods.
Join Us
The Friends are pleased to welcome new members. Your £5 family subscription will help to pay for more bird boxes, native trees & plants, tools, leaflets, name boards etc. Membership of the Friends expresses your belief in, and support for, the work we do. The Friends understand that not everyone can take part in maintenance work or attend meetings but your membership encourages those who do.
To join please complete and submit the form which can be found at the bottom of the Contact Us page on this website.

Alternatively a membership form to print and return by post can be downloaded from here.
Notices
Our next Selsdon Wood Workday is on
Sunday 12th April 2015 - see workdays page for details

Our next Meeting is on Monday March 30th @ 8pm at the Forestdale Forum. All members welcome.
Our next guided walk is a Spring Walk with the Friends on Sunday 12th April @ 2pm - see Walks page for details.
News

The renovation of the six Council Information Boards at the entrances to Selsdon Wood is nearing completion. The first board is now up in the car park. See a full report with more photos on the History page.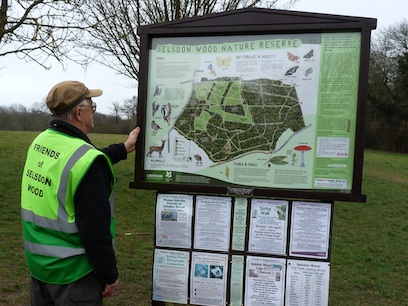 Signs of Spring 2015
please send us your sightings!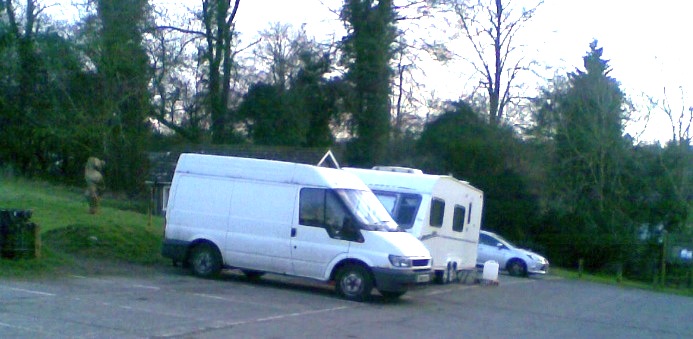 News 28/3/15 - Traveller Invasion Update
The travellers who had been camped in our car park since 25/3/15 (see above) were evicted on 27/3/14. As I reached the car park at about 12.45 they were just pulling out with two of the caravans. There was a tow truck there with two young blokes (presumably baliffs) who were seeing them off. They told me that the travellers had only 2 vehicles and would be returning for the 3rd caravan shortly. They also told me that they were contractors to the Council who had also overseen the move from the rec and the Selsdon Park Hotel staff car park.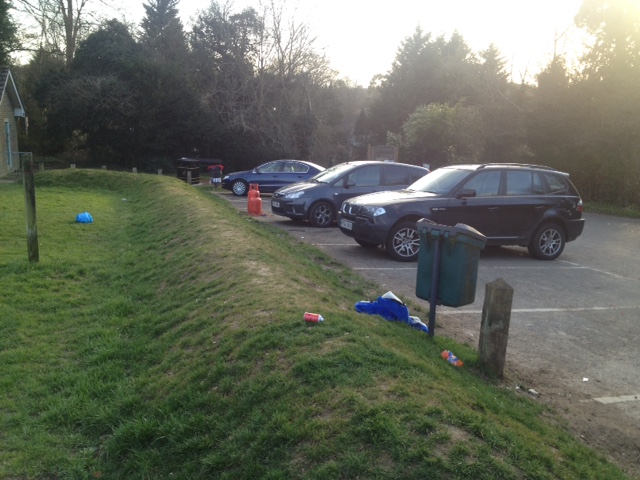 I sat on the FSW bench at the top of the car park for 15 minutes or so to see if the travellers came back for the 3rd caravan but I was getting cold so I gave up the wait before it went. However, the guys with the tow truck were obviously going to wait to be sure and I understand that they had all gone before 3pm to be replaced by the myriad cars of the Friday walkers.

There was a bit of mess (see right) including 2 large gas cylinders and a blanket but it could have been much worse. The Council contractors had cleared the large items and emptied the bins by noon on 28/3/15 and the FSW did a tidy up of the remaining litter.

Kingfisher Gardens Gate Locking
Currently contractors for Croydon Council lock the Kingfisher Gardens gate from dusk to dawn each day. This causes great inconvenience to local residents who use this access and would like to walk their dogs before or after work. As this is the only pedestrian gate that is ever locked the FSW would like to see this practice stopped.
If you have a view either way on this matter please email us at selsdonwood@gmail.com. We will not make your details available to anyone else.
FSW Logs & Charcoal (sorry logs currently sold out)

FSW have some logs and charcoal from our coppicing activities and maintenance work, available for a donation of £4 (logs) or £5 (charcoal). If you would like some please contact Neale Fox on logs.selsdonwood@btinternet.com tel: 020-8657-0384, or get in touch through the usual FSW email selsdonwood@gmail.com, by telephone at 020-8657-0423 or by using the form on the Contact Us page of this website.
Selsdon Wood Closing Times

The following closing times apply to the Car Park & Kingfisher Gardens gates.

Jan - 4.30: Feb - 5.30: Mar - 6.30: Apr - 8.00: May - 9.00: June/July - 9.30: Aug - 8.30: Sept - 7.30: Oct - 6.30: Nov/Dec - 4.30.
Reporting Problems in Selsdon Wood
For fire, ambulance or illegal activities - call 999. Our name boards will help you give the location. Alternatively if you ring 112 from a mobile phone it will automatically give your GPS position to the emergency services.

If it is not urgent please ring 101 or contact the Safer Neighbourhoods Team at Addington Police Station on 020-8721-2464 or email Selsdon.Ballards.snt@met.police.uk.

To report injured, sick or trapped badgers 24/7 contact the East Surrey Badger Protection Society (ESBPS) Wildlife Officer Warwick Reynolds 020-8688 9905, mobile 07973 327017. Could those reporting please include their name & phone number in case more information is required. The ESBPS does not collect dead badgers - ring Croydon Council 020-8726 6000 during office hours.
In the case of other injured wildlife ring the RSPCA on 0300-1234-999.
If you see people, motorbikes, quads or horseriders causing damage or behaving anti-socially Mon to Fri 9am to 5pm phone Croydon Council 020-8726 6000 (ignore all choices and information – you will be answered eventually) or report online at www.croydon.gov.uk/doitonline.
Overflowing bins or poo bins should be reported to parks@croydon.gov.uk

Graffiti should be reported to Graffiti@croydon.gov.uk
We would also be grateful if you would tell the FSW about it - e-mail: selsdonwood@gmail.com or use the Contact Us page on this website.
Ash dieback in UK woodland
You will have heard the news about Ash dieback in the UK. The Forestry Commission is currently carrying out surveys to establish its possible spread. To keep up to date and for further information about how to identify the disease please visit http://www.forestry.gov.uk/chalara. Now that the leaves have gone it will be difficult to identify affected trees, but once the trees are in leaf again next spring your support in keeping an eye on them will be extremely helpful.
If you find a suspect case, please report it to the following:
Fera - tel: 01904 465625 - email: planthealth.info@fera.gsi.gov.uk
Forestry Commission - tel: 0131 314 6414 - email: plant.health@forestry.gsi.gov.uk
and also to Richard Edwards at Croydon Council's Trees and Woodland Section - richard.edwards@croydon.co.uk
This disease has been reported in most of continental Europe, and has affected ash with varying degrees. In the UK it will be a case of seeing how things develop, what further research shows and following the advice give by the Forestry Commission. The Council's Tree and Woodland Section is working closely with the Forestry Commission and other practitioners across London to ensure we do what is possible and to keep you informed about developments.