Our site index is at the top of each page and we hope you find it useful. However, you can also use the search function below if you are looking for something specific.Use the back arrow on your browser to return to this page.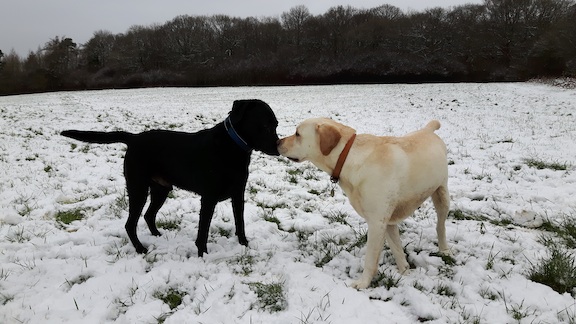 Jet & Bella in the snow 17/1/16 - Many thanks to Lee Butcher for this photo.


Notices
Our next Meeting is on Monday 29th February 2016 @ 8pm at the Forestdale Forum. All members welcome.
The Workday planned for Sunday 31st January 2016 has been cancelled due to bad weather. The next Selsdon Wood Workday is on Sunday 7th February - see Workdays page for details.
Our next walk is on Saturday 5th March at 2pm - 'Family Woodland Walk' with Meike Weiser (for families with children aged 5+) - see Walks page for details.

The Tree Walk planned for 09/1/16 was cancelled due to poor conditions - the mud is everywhere and dangerously slippery.

If conditions improve in the next couple of months I will be very happy to lead a walk on some alternative Saturday. If you would like to be kept informed about any such walk please contact me via the Contact Us page on this website or via email and I will put you on a circulation list for news.

Heather Govier (Chair FSW)
selsdonwood@gmail.com

Scroll down the page to learn how to identify trees in winter and see some of the sights we might hope to spot if the walk is rescheduled.

Access to Selsdon Wood

The Selsdon Wood car park is off Old Farleigh Road, Croydon, CR2 8QF.
The map reference of the reserve entrance is 51° 20' 12.33" N , 0° 03' 11.95" W
The link below shows the Google Map of the reserve entrance with turquoise bus sign pointing to it;
https://www.google.co.uk/maps/@51.3370015,-0.053407,18.5z
The link below, also with the bus sign, shows the Google Earth photo of the entrance and car park area:
https://www.google.co.uk/maps/@51.3368204,-0.0532752,176m/data=!3m1!1e3
To reach Selsdon Wood by public transport - take the 433 from East Croydon Station, getting off at the stop just after the bus turns in to Sandpiper Road. Then walk back to Old Farleigh Road and turn left and you are just about 100 yards from the car park entrance to the wood. For a map and details see
https://tfl.gov.uk/bus/route/433/?direction=inbound
Selsdon Wood Closing Times

The following closing times apply to the Car Park & Kingfisher Gardens gates.

Jan - 4.30: Feb - 5.30: Mar - 6.30: Apr - 8.00: May - 9.00: June/July - 9.30: Aug - 8.30: Sept - 7.30: Oct - 6.30: Nov/Dec - 4.30.
Reporting Problems in Selsdon Wood
For fire, ambulance or illegal activities - call 999. Our name boards will help you give the location. Alternatively if you ring 112 from a mobile phone it will automatically give your GPS position to the emergency services.

If it is not urgent please ring 101 or contact the Safer Neighbourhoods Team at Addington Police Station on 020-8721-2464 or email Selsdon.Ballards.snt@met.police.uk.

For Injured wildlife ring Riverside Animal Centre - 020-8647 6230 between 8.30am and 9pm Mon to Sun

or call RSPCA 0300 1234 999 (24/7)

To report injured, sick or trapped badgers or dogs trapped in badger setts contact East Surrey Badger Protection Society (ESBPS) 24/7 Rescue Service. We are here to help sick, injured, trapped or distressed badgers. Also tell us about dead badgers. Please help us by giving a contact number in case we need more details. Warwick Reynolds. 020-8688 9905. mobile: 07973 327017 or Ray Ings. 01883 380321. mobile 07736 520332 or David Gooden. mobile 07828 899273

If you see people, motorbikes, quads or horseriders causing damage or behaving anti-socially Mon to Fri 9am to 5pm phone Croydon Council 020-8726 6000 (ignore all choices and information – you will be answered eventually) or report online at www.croydon.gov.uk/doitonline.
Overflowing bins or poo bins should be reported to parks@croydon.gov.uk

Graffiti should be reported to Graffiti@croydon.gov.uk
We would also be grateful if you would tell the FSW about any problems - e-mail: selsdonwood@gmail.com or use the Contact Us page on this website.
Ash dieback in UK woodland
You will have heard the news about Ash dieback in the UK. The Forestry Commission is currently carrying out surveys to establish its possible spread. To keep up to date and for further information about how to identify the disease please visit http://www.forestry.gov.uk/chalara. Now that the leaves have gone it will be difficult to identify affected trees, but once the trees are in leaf again next spring your support in keeping an eye on them will be extremely helpful.
If you find a suspect case, please report it to the following: Fera - tel: 01904 465625 - email: planthealth.info@fera.gsi.gov.uk
Forestry Commission - tel: 0131 314 6414 - email: plant.health@forestry.gsi.gov.uk
and also to Richard Edwards at Croydon Council's Trees and Woodland Section - richard.edwards@croydon.co.uk
This disease has been reported in most of continental Europe, and has affected ash with varying degrees. In the UK it will be a case of seeing how things develop, what further research shows and following the advice give by the Forestry Commission. The Council's Tree and Woodland Section is working closely with the Forestry Commission and other practitioners across London to ensure we do what is possible and to keep you informed about developments.
Identifying Trees in Winter - Key Features to look for

Profile - outline & branches
Bark - colour & texture
Buds - colour, size, shape, pairing
Other - fruit, flowers, leaf litter